Getting the Garden Ready: Nutri-Mulch Worth its Weight in Gold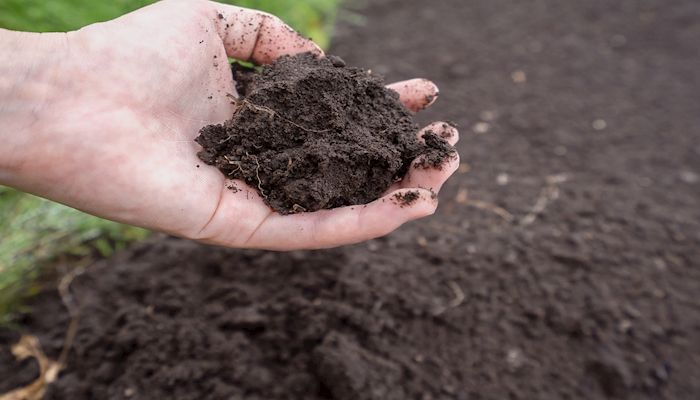 By Matt Hargreaves, Editor, Countryside Magazine
With warm temperatures tempting Utahns with the coming of spring, long-lost friends such as shovels, muck boots, tillers and hand trowels are being dug out of sheds everywhere. The optimistic thoughts of a successful growing season sweep over green thumbs and aspiring farmers everywhere. But how to get that blue ribbon tomato?
Most Utahns are familiar with the rural Sanpete County communities of Ephraim and Manti, and one of the county's most recognizable products – turkeys. But until recently, few would know of the supercharged power available to your garden and yard coming from those turkeys.
Any seasoned gardener can tell you, to have a bountiful garden overflowing with enough tomatoes to drop off to your neighbor, you need nutrients. That's where the turkeys come in – we're talking manure.
"For years, our farmers didn't know what to do with this stuff," said Spencer Dyches, Sales Director for the Nutri-mulch Division of Norbest. "Farmers would try to just give it away – and couldn't! They didn't want any problems on their farms with excess manure."
A solution to the stinky situation came when Matt Nielsen, an entrepreneur from Ephraim was serving a two-year mission for the Church of Jesus Christ of Latter-day Saints. Thinking of business opportunities back home, Nielsen had the idea on his mission to use turkey manure to create compost for gardens and yards.
Upon returning from his mission, Nielsen started and ran the business for about a year, before Moroni Feed Company (now known by their retail label Norbest) bought the business as a way of helping all of the farmers in its co-op deal with the problem of manure.
Finding a place for the manure was the primary focus of the company for about two decades, until about seven years ago when the company saw a growing opportunity in residential composting.
"Before, we'd just take whatever farmers would give us to create the compost, but it wasn't really a priority. Now, we pay farmers for the manure, we've become more efficient, and really changed our marketing strategy," Dyches said. "We really got started in the Las Vegas market, selling the compost to the McCarran International Airport."
Nutri-mulch then hit it big with the largest casinos in the area, including the Bellagio, MGM Grand, Luxor, Treasure Island and the Mirage. Those companies saw the value in adding the highly concentrated nutrients to the landscapes that were often lacking quality soil.
While the business was booming in Las Vegas, the costs associated with shipping the heavy product were daunting. In recent years, the business has focused on residential customers closer to home in Utah, and growing business in Colorado and Idaho.
"Gardening has always been big in Utah and Idaho, and is also a strong component in Colorado because of the vested interested in organic products," Dyches said.
Nutri-mulch collects the raw product from turkey farmers year-round, but the composting process only starts once outside temperatures start climbs high enough to raise internal temperatures to 150 degrees, killing off pathogens. This process takes about 2-3 months and is accomplished through the natural process of aerobic bacteria.
The compost then goes through a soaking and drying process, with the final product being ready about eight months after arriving.
The only ingredients in the Nutri-mulch compost are turkey manure and pine shavings from the nearby Manti-La Sal forests used for bedding materials for the turkeys. The company doesn't add any filler products such as dirt, straw or peat moss because they feel it dilutes the nutrients.
The Sweet Spot of Nutrients
As for those nutrients, those preparing their gardens and yards are most often focused on the 'Big Three' – Nitrogen, Phosphorus, and Potassium (N-P-K). What's key to remember here is the differences between compost and fertilizer. A simply way to remember it is that compost feeds the soil, while fertilizer feeds the plant. In composting, those 'Big Three' nutrient levels are found in lower concentrations, but the chemical structure is different. Those key nutrients are accompanied by a plethora of micronutrients that soil and plants need, but aren't readily supplied in most fertilizers.
"Our compost provides immediate nutrients that are long-lasting. They don't have to be applied far in advance for fearing of burning plants," Dyches said. "Synthetic molecules are smaller in fertilizer and will leach out after a few weeks. Our nutrients stay in the soil much longer and will not leach out with irrigating. It creates new soil."
Nutri-mulch compost contains ample amounts of nitrogen (2.5%), phosphate (4.4%), potash (1.9%) and calcium (6.4%), al while keeping sodium amounts very low (.3%). Sodium can be very detrimental to your soils, and has to be leached out of synthetic fertilizers and even most manure composts, including steer and chicken manure. The leaching takes away other beneficial nutrients.
The reason it is low in Nutri-mulch compost is because turkeys naturally do not absorb much sodium in their diets. This explains why turkeys are often basted salty brine to give it flavor.
In addition to the buffet of nutrients the compost provides, it does so while maintaining a slightly acidic pH range of 6.5 to 6.7. Most Utah soils are very alkaline, so providing this almost pH neutral compost is very helpful.
It's Good For What Ails You
In addition to helping you grow the best veggies in town just in time for that blue ribbon at the County Fair, Nutri-mulch also provides great growing conditions for ornamental plants, shrubs and trees. It has also been used on lawns and sports turf.
"You can just broadcast a ¼ inch layer of this on your grass in the spring and the fall, and it will work great for your grass," Dyches said. "It doesn't have the weed prevention properties, so you'll have to do that separately. Just put it on after aerating and it will dissipate pretty quickly."
Hitting the Big Market While Staying With the Little Guys
Norbest has found success with its Nutri-mulch product, selling about 100,000 bags annually and increasing. This doesn't include the bulk sales and raw product, which is purchased by farmers to use for their crops. Dyches shared the compost is used for Utah favorites including Green River melons and sweet corn throughout the Wasatch Front.
Nutri-mulch can be found at Big Box stores like Home Depot, but the company is very committed to local companies like Intermountain Farmers Association (IFA) and can be found at its Country Stores. The majority of its compost in Utah will be found at independent nurseries throughout the state, such as J&J Garden Centers in northern Utah and in bulk quantities at Star Nurseries in St. George.
With the compost being easy to use – and to find – Nutri-mulch is confident gardeners throughout Utah will find prize-worthy produce in their gardens for years to come. Happy Growing!
Want more news on this topic? Farm Bureau members may subscribe for a free email news service, featuring the farm and rural topics that interest them most!