Utah Farm Bureau Lists 'Issues to Watch For in 2017'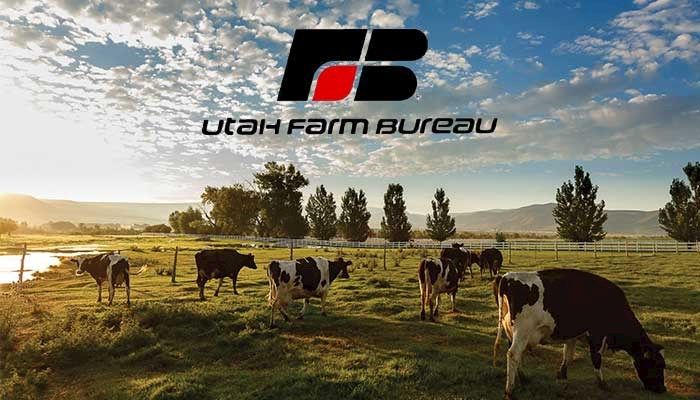 SANDY, Utah. February 3, 2017 – The Utah Farm Bureau has released its list of 'Issues to Watch For in 2017' upon returning from the national agricultural convention for the American Farm Bureau Federation and at the start of the 2017 Utah general legislative session.
Though not exhaustive in scope, the list is based off the Farm Bureaus policy book, adopted at its recent convention in November. The policy book will guide the general farm and ranch organization's public policy actions throughout the upcoming year – including the current legislative session.
"It is important to note the policies advocated and defended by the Utah Farm Bureau come from the grassroots level, from actual farmers and ranchers on the ground and in the trenches – not simply from the ideas of one leader or board," said Ron Gibson, a dairy farmer from Weber County and President of the Utah Farm Bureau Federation. "These policies are developed through debate and deliberation in response to issues felt on the farms of the smallest towns as well as in the families of the largest cities in Utah. These issues have a direct impact on our ability to produce food in Utah."
State Concerns
1. Preserving the Integrity & Intent of the Greenbelt Law
The 1969 Farmland Assessment act, commonly known as Greenbelt, is a law that has done more to preserve and maintain sustainable family farms in the state of Utah. The purpose of the law was to keep property taxes at a rate that could be affordable to farmers and ranchers – particular along urban areas where there was urban encroachment and property values were increasing. Over the years, the law has been amended, with additional changes that were never adopted.
Recently, there have been discussions at amending the greenbelt law to address greenbelt land parcels that are used for more than one purpose – including purposes that may fall outside of traditional production agriculture. It Farm Bureau's policy that these dual-purpose greenbelt parcels should be assessed on the fundamental principles the Farmland Assessment Act criteria. Utah Farm Bureau will be ensuring the integrity and the intent of greenbelt law is enforced.
2. Water Issues
Streambeds
For the past 10 years, the pendulum has swung back and forth between the legislative and judicial branches on the question of public access rights to Utah's streambeds. Two points have remained constant in this debate – the public owns the water, but yet the landowner owns and pays taxes on the bed.
The 2017 sessions marks another significant year in determining who access is given to, and where. While the Utah Supreme Court will rule on this in the coming year, Utah lawmakers have opted to remain silent until a ruling is given. This streambed access issue is fundamental to private property rights, and is a priority issue for the Utah Farm Bureau.
Other water issues
It is anticipated the 2017 leg will introduce approximately a dozen different water bills, with many having direct impact on Utah's farmers and ranchers. Farm Bureau will work closely with stakeholders to ensure water rights, shareholders, water companies, and the state engineer maintain their proper checks and balances to make sure water stays in production agriculture. Other water bills Utah Farm Bureau is following deal with in-stream flows.
3. Balancing wildlife
Utah's farmers and ranchers largely depend on public lands to graze livestock, which puts us in competition with growing wildlife populations – particularly deer and elk – when it comes to forage. Farm Bureau seeks to work closely with wildlife agencies and other stakeholders to ensure that both wildlife and livestock have access and forage for sustainable populations. Farm Bureau is alarmed that land management agencies have reduced livestock grazing by 70 percent since the 1950s, while wildlife numbers have increased dramatically.
4. Seeds, pesticides, and fertilizers
It's important for Utah farmers to have access to a variety of seeds to help meet the growing demand of being independent and feeding the world. With technology, we have many seeds to choose from. Farm Bureau seeks to ensure that all Utah farmers and ranchers can use quality seeds, pesticides, and fertilizers to help meet the challenge of providing more food with less resources, and provide food choices of our growing population.
National Issues
Regulatory Reform
Farm Bureau delegates recently approved policies supporting regulatory reform, including legislation to eliminate "judicial deference," which has essentially nullified the power of the courts to serve as a check and balance on agency abuses. The topic of regulations also included policy to oppose agency advocacy campaigns in support of their own proposed regulations.
New language was approved to require the Bureau of Land Management, U.S. Forest Service, U.S. Fish and Wildlife Service and other federal agencies to coordinate and cooperate in a meaningful way with state and local governments in making land management plans and decisions as required by Congress.
Farm Bureau encourages the Trump Administration to scrutinize the regulatory impact of the last eight years to eliminate burdensome regulations to stimulate the create jobs and stimulate the economy. Farm Bureau's concern arises from the Obama Administration adding more than 25,000 new regulations, with a cost of $1.88 trillion to the U.S. economy. Recognizing this opportunity, Utah Farm Bureau has submitted a list of priorities to Congress identifying rules and regulations to be reviewed and potentially repealed that are hurting farmers and ranchers.
That list includes a repeal of the EPA's "Waters of the U.S." (WOTUS) rules that oversteps the agency's authority and challenges state's rights to regulate the waters within their borders. Also included on the list are abuse and misuse of the Endangered Species Act, failure to honor the obligations of the Taylor Grazing Act and the Multiple Use, Sustained Yield Act, recognition of RS 2477 Roads, passage of the Water Rights Protection Act to limit federal claims on livestock water rights on Forest and BLM administered lands and rescinding BLM's Planning 2.0 that dramatically limits input from county commissions and county resource plans.
National Monuments & the Antiquities Act
For more than a century, the President of the United States has had the power to unilaterally designate federal lands as a National Monument without the consent of Congress, local governments or affected citizens. National Monument designations, under the Antiquities Act of 1906, are meant to ensure the proper care and management of historic landmarks and other objects of historic or scientific interest. The Act also states that the monuments shall be confined to the smallest area compatible with proper care and management of the objects.
In recent decades, presidents from both parties have used the power of the Act to designate hundreds of thousands of acres, and in some cases millions of acres at a time – such as with the Grand Staircase Escalante National Monument, and the recently announced Bears Ears National Monument in Utah. This scale of designation goes far beyond the executive authority that had Congress originally intended. Such abuse restricts or even prohibits economic opportunity and removes decision making from the states and private citizens. These designations have affected water rights, grazing rights and access to state and private lands.
Immigration
Congress needs to pass responsible immigration reform that addresses agriculture's current experienced workforce and creates a new flexible guest worker program. Instability in the agricultural workforce places our food supply at risk – increasing immigration enforcement without also reforming our worker visa program will cost America $60 billion in agricultural production. Farm Bureau supports flexibility in the H-2A program that would allow workers to seek employment from more than one farmer.
As Utah Farm Bureau begins this new calendar year with the state legislative session and then follows-up with the many planting, nurturing and harvesting decisions of the growing season, its public policy process will lead the way in helping government and community leaders understand the needs of a successful agriculture industry and how too support it.
For further detail on priority issues, please contact the Utah Farm Bureau Federation at 801-233-3040.
About the Utah Farm Bureau
The Utah Farm Bureau is the largest general farm and ranch organization in the state with more than 29,800 member families. Its mission is to improve economic opportunities for the state's farmers and ranchers, ensure America's food security, protect the natural resources of our state, and improve the overall quality of life in the state and nation through political action, educational and informational means. The Farm Bureau is a non-partisan, voluntary organization, and its efforts are based on grassroots policies developed by members at the local, county, state and national levels. It is affiliated with the American Farm Bureau Federation, the world's largest general farm organization, with more than 6 million family members in 50 states and Puerto Rico. For more information, go to the Utah Farm Bureau Web site at http://www.utahfarmbureau.org or connect with the 'Utah Farm Bureau' fan page on Facebook.com, on Twitter.com under the name @MountainFarmer or on YouTube at www.youtube.com/utahfarmer.
Want more news on this topic? Farm Bureau members may subscribe for a free email news service, featuring the farm and rural topics that interest them most!