Utah farmers & ranchers talking industrial hemp, suicide prevention, and other issues at 2019 Utah Farm Bureau convention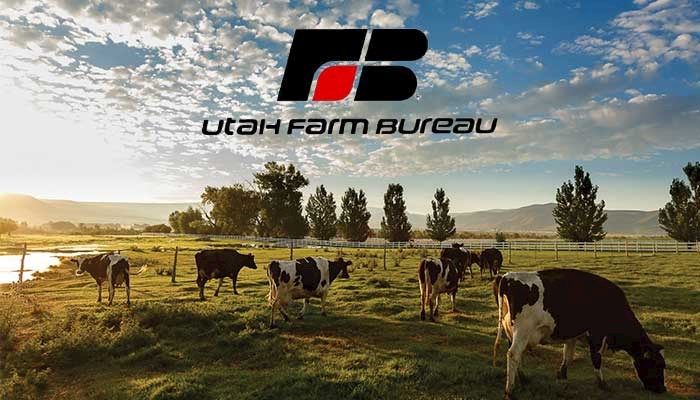 SALT LAKE CITY – The Utah Farm Bureau Federation will convene its 103rd annual convention, November 20-22, at the Davis Conference Center in Layton, Utah. The convention's theme – Connect – will address how farmers and ranchers can find success by connecting with each other, with non-farming audiences, and with decision makers at the local, state, and national levels.

The Farm Bureau (UFBF) will address critical public policy topics, including public lands issues such as grazing policies, the current sales tax restructuring debate, trade, water development and distribution, industrial hemp, agritourism, and more.

Additionally, farmers and ranchers will learn about deepening consumer engagement, improving their leadership abilities, and improving the way everyday consumers connect to their food. In this way, Farm Bureau leaders will learn how their success inspires all Utah families to "connect" with the 'Miracle of Agriculture'.

"We're really excited about our convention in Layton this year– and to kick-off our meeting with such a great lineup of speakers and issues. This is truly democracy at the grassroots level, with those feeling the impact of state and federal regulations the most having a say in how the rules and laws are created," said Ron Gibson, Utah Farm Bureau President. "We're not just sitting around complaining about our situation. Farm Bureau looks to its heritage of making policy to guide our organization with a vision for the future."
Thursday's agenda consists of nominations and elections for the organization's President and UFBF Board of Directors, and members of its three statewide committees. There will also be a live auction luncheon to support Utah Agriculture in the Classroom (AITC), which provides educators with materials and volunteers to enhance learning in classrooms.
The start of the convention Thursday afternoon will feature comments from President Ron Gibson followed by an inspirational message by Neil Ihde, a professional speaker who has been featured several times on TED presentations. Ihde will speak on essential tools needed for success in challenging times, and how leaders can use these tools to energize their organizations and find success no matter the circumstances.
Ihde will be followed by a fundraiser benefiting the Young Farmers & Ranchers (YF&R) program, and the 'Final Four' of the YF&R Discussion Meet. The competitive event simulates a committee meeting where discussion and active participation are expected from each participant. This competition is evaluated on an exchange of ideas and information on topics ranging this year from opioid and mental health concerns in rural America, to emerging food technologies and labor issues.
Friday's action will feature the resumption of the Farm Bureau delegate session in the morning. After lunch, there will be two rounds of breakouts, with several sessions being repeated. Presentations will focus on Utah's livestock brand renewal program, changes in water law, industrial hemp production, agritourism liability, podcasting and learning how to help those suffering from mental health challenges.
With the resumption of the general session, the Leopold Conservation Award, which is sponsored by the Sand County Foundation, in partnership with the Utah Farm Bureau Federation, Utah Cattlemen's Association, and Western AgCredit, will be presented. The award honors the conservation efforts of private landowners in Utah. The outstanding conservationist receives a $10,000 check and Leopold Crystal for their dedication to wise stewardship of Utah's natural resources.
Following that presentation, the general session will continue with Kerry Gibson, Commissioner of the Utah Department of Agriculture & Food, and will conclude with a panel featuring some of Utah's Congressional delegation (invited).
The convention will conclude with the Farm Bureau Gala banquet Friday evening, which will include the presentation of a number of awards. Guests will also get a national perspective on issues from American Farm Bureau President Zippy Duvall. Duvall will share insights from first-hand experiences with the Trump White House regarding trade, labor, and other issues.
# # #
MEDIA CONTACTS:
Media registration, agendas, and other information can be found by contacting Matt Hargreaves, Vice President of Communications, 801-233-3003 (office), 801-455-4320 (cell) or matt.hargreaves@fbfs.com.

About the Utah Farm Bureau
The Utah Farm Bureau is the largest general farm and ranch organization in the state with more than 34,000 member families. Its mission is to inspire all Utah families to connect, succeed and grow through the miracle of agriculture. It strives to bring value to every citizen and community through love of God, family, country, and the land through political action, educational and informational means. The Farm Bureau is based on grassroots policies developed by members at the local, county, state and national levels. It is affiliated with the American Farm Bureau Federation, the world's largest general farm organization, with approximately six million family members in 50 states and Puerto Rico. For more information, go to the Utah Farm Bureau Web site at http://www.utahfarmbureau.org, 'Utah Farm Bureau' on Facebook, @UtahFarmBureau on Twitter, Utah Farm Bureau on Instagram, or on YouTube at www.youtube.com/utahfarmer.
Want more news on this topic? Farm Bureau members may subscribe for a free email news service, featuring the farm and rural topics that interest them most!