Utah's Bateman's Mosida Farms Wins National Dairy Sustainability Award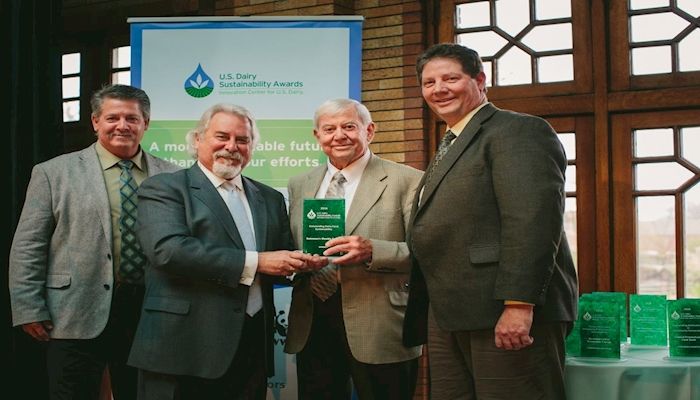 The Innovation Center for U.S. Dairy®, established under the leadership of dairy farmers, announced its fifth annual U.S. Dairy Sustainability Awards during a ceremony May 11 in Chicago. The program recognizes dairy farms, businesses and partnerships whose sustainable practices positively impact the health and well being of consumers, communities, animals and the environment.
Utah's, Bateman's Mosida Farms was recognized in the category of "Outstanding Dairy Farm Sustainability" and the first-ever Utah recipient of this award.
"The nine honorees recognized truly embrace what sustainability means from environmental stewardship to economic viability and social responsibility," said Jenn Harrison, CEO of the Dairy Council of Utah/Nevada. "It was a very proud moment to watch the Bateman family represent our Utah and national dairy communities and receive recognition for their continuous hard work."
Judges evaluated the nominees' sustainability practices based on their economic, environmental, and community impact. The independent judging panel – including experts working with and throughout the dairy community – also looked for learning, innovation, improvement, scalability, and replicability.
Bateman's Mosida Farms is Utah's largest dairy, and it is owned and operated by 4 brothers and their father. With a history of dairy farming that pre-dates Utah's statehood, two primary principles guide the Bateman's approach to dairy farming - continuous improvement, and focusing on each cow as an individual. A new maternity barn has improved the health of calves and mothers and their manure management and sand reclamation systems allow the dairy to capture beneficial nutrients for fertilizer, conserve water, and reduce use of fossil fuels.
In his award acceptance speech, with two of his sons by his side, Wayne Bateman said, "We appreciate the opportunity to do what we do and we hope that our grandchildren, our great-grandchildren and their grandchildren can have one of the most honorable professions there ever was, and they will have that chance, but does take a lot of looking down the road."
And they continue to look ahead. Currently underway is a solar energy project that will offset 90% of the power used to run the farm and return valuable energy to the grid.
The Batemans also feel that giving Utahans an inside look at what dairy farming entails is just as important as their improved facilities and practices, and they use farm tours to show that even at the biggest dairy in the state, focusing on small details makes sustainable differences for the animals, their product and the environment. "We take pride in this. It's our passion, our way of life, and we want our dairy to be the best that it can be," Brad Bateman said.
About the U.S. Dairy Sustainability Commitment and Awards Program
The U.S. Dairy Sustainability Commitment and the Sustainability Awards program are supported by gold- and silver-level sponsors. This year's gold-level sponsors are: DeLaval, Elanco, U.S. Environmental Protection Agency and World Wildlife Fund. Silver-level sponsors are: Academy of Nutrition and Dietetics, Conservation Technology Information Center, DSM, Milk Processor Education Program (MilkPEP), National Council of Farmer Cooperatives and Syngenta.
The awards program is part of the U.S. Dairy Sustainability Commitment, an industrywide effort to measure and improve the economic, environmental and social sustainability of the dairy community. To learn more about the U.S. Dairy Sustainability Awards, the winners and the best practices in place at their operations, visit DairyGood.org.
Want more news on this topic? Farm Bureau members may subscribe for a free email news service, featuring the farm and rural topics that interest them most!