Farmers Feeding Utah Makes Second Delivery of Food to Food Pantries, Needy Families in Northern Utah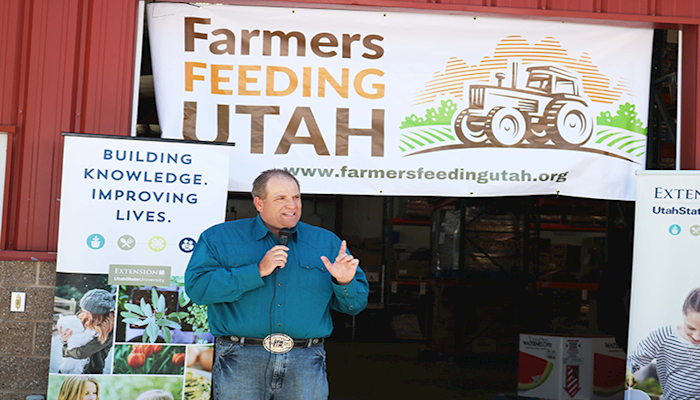 Having recently made its first delivery of what will be more than 100,000 pounds of food to Utah's Navajo neighbors, including live sheep and flour, Farmers Feeding Utah made delivered food for its second miracle project, benefiting food pantries and families in Box Elder, Cache, and Rich counties.
Prior to a press conference and donation at the Cache Community Food Pantry, volunteers from Utah State University Extension, Farm Bureau Financial Services, Utah Farm Bureau, and Dairy West met at the Maverik Football stadium in Logan to make food donations to families in need, many of which have suffered recent economic losses.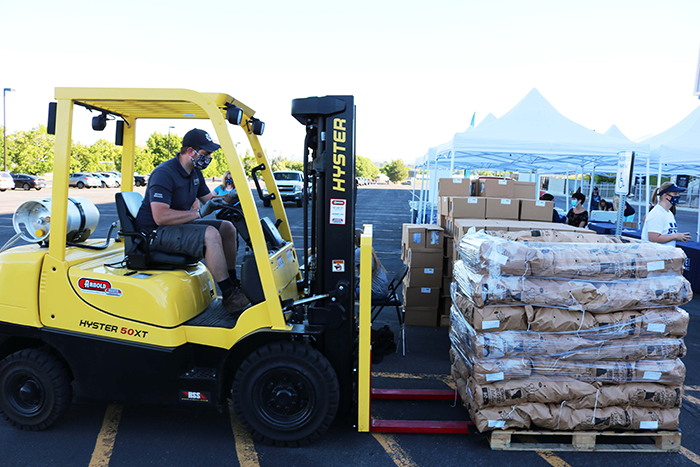 More than 550 families received food donations at the food donation event at USU and the Cache Community Food Pantry. In all, the program delivered 42,000 pounds of potatoes, 19,000 dozen eggs from Oakdell, 3,000 pounds of pork, and 20,000 pounds of beef. It also delivered nearly $100,000 in dairy products like milk, including shelf-stable milk and cheese.
"We've seen miracles in how needy families in Utah got the food they needed, and we've been able to support some of our local farmers," said Ron Gibson, president of the Utah Farm Bureau Federation. "Another part of this miracle has to see the way things have come together. Utahns have been incredibly generous and stepped up to the challenge on our first two projects. It was just incredible to pass out this food to families that needed it and see how grateful they were."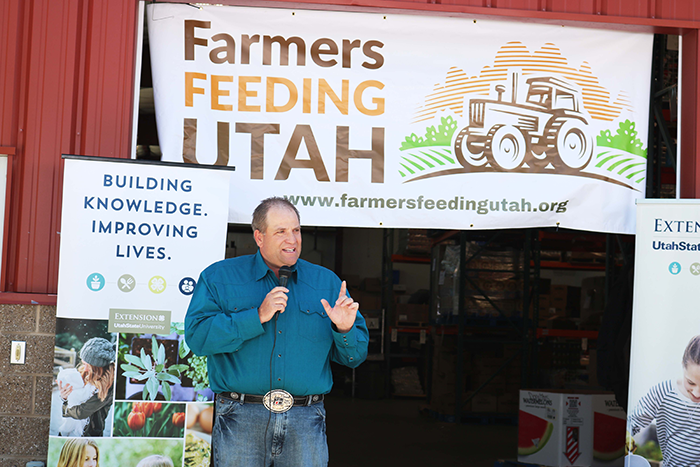 "I am so grateful to live in such a wonderful, forward-thinking community which provides fresh and local foods to those who would not otherwise be able to provide them for their families. Healthy foods are not always available to families of limited means," said a food recipient. "Fresh or local items are normally luxury items. Particularly during this time, the creativity and ingenuity of USU and Utah Farm Bureau to make these items available to those in need is truly a blessing. Thank you!"
Utah State University has been an invaluable partner throughout the Farmers Feeding Utah campaign, and really stepped up to help families in the shadows of the university. Many students also receive help from the Cache food pantry, and so this project was especially helpful.
"As the land-grant university that is proud to count so many farmers and ranchers as alumni, I can think of no better way to help them during this difficult time – and help needy families as well – than what this program has been doing," said Noelle Cockett, president of Utah State University. "I'm proud to have our 'Hunger Solutions Institute' and Extension play such a significant role in helping individuals and families in Utah – including our own students – get the food they need. I would encourage current and former Aggies everywhere to visit FarmersFeedingUtah.org and consider how you may be able to contribute."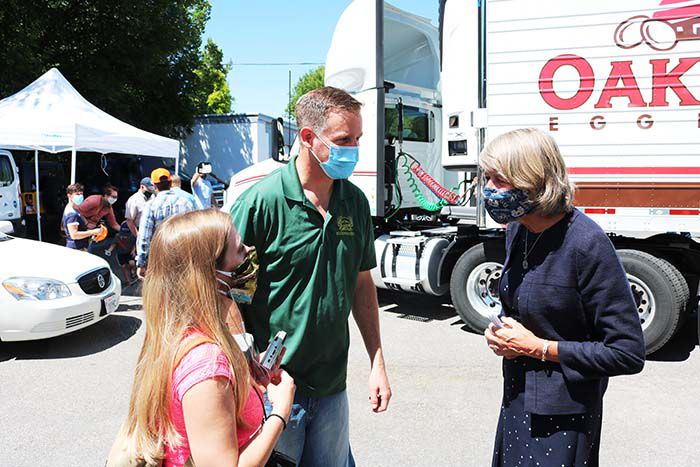 Unemployment rates in Cache County have more than doubled compared to last year, and its food pantry has increased by 30 percent. Unemployment in Box Elder County has more than tripled, with demand increasing by 20 percent. Farmers Feeding Utah is using donations to help these local pantries.
"We lost two of our major food drives this past year – the Boy Scouts of America and the Post Office food drives – due to Coronavirus, and so the food donations used to sustain families are gone," said Matt Whitaker, Director of the Cache Community Food Pantry. "There are more clients than ever because of being out of work, and grocery stores have been less able to donate because of the rush of shoppers. Ultimately, we're just looking to serve individuals and families in need – especially those that have fallen through the cracks. We're very grateful for all the help Farmers Feeding Utah has provided."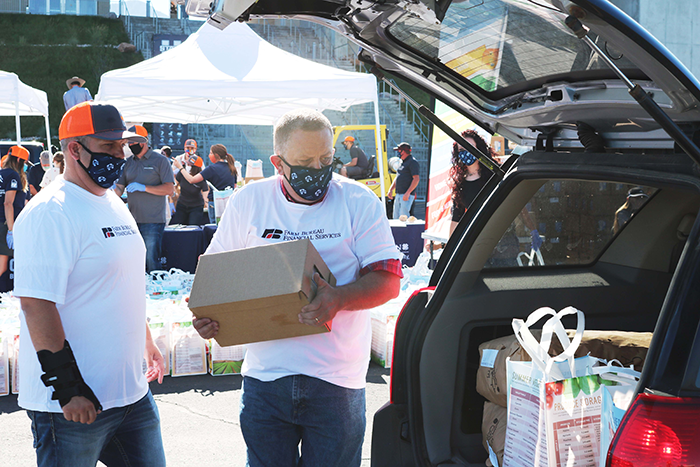 Farmers Feeding Utah is working with its food partners to determine the timing and location of future projects which will be planned within the next few months. To contribute to this specific project with online donations, please visit FarmersFeedingUtah.org.
In addition to representatives from Utah State University, Farm Bureau Financial Services, Utah Farm Bureau, and Dairy West, the event was joined by Kelly Pehrson, deputy Commissioner from the Utah Department of Agriculture & Food, along with Senator Deidre Henderson, Rep. Joel Ferry, Rep. Casey Snider, Rep. Val Potter, Craig Buttars, Cache County Executive Director, and Cache County Councilors Dave Erickson& Gina Worthen.
Want more news on this topic? Farm Bureau members may subscribe for a free email news service, featuring the farm and rural topics that interest them most!